Community website by MBC/Ernest Abrams. Call 808-739-9797 for advertising/sponsorship#KaimukiHawaii
Hawaiian Electric Companies Geared Up For Hurricane Season, Urge Customers To Prepare
<!******* 1 TAB NAVIGATION START******>
Back to the top
<!#43START>
<!******* 2 TAB NAVIGATION START******> Back to the top

VIEW HANDBOOK

Download Our Handbook for Emergency Preparedness
The Hawaii Emergency Management Agency is now recommending residents prepare an emergency kit that should include hand sanitizer and face masks.
At Hawaiian Electric we are committed to providing you with reliable service and understand how essential electricity is to our everyday lives, however, during emergency situations power outages can occur and we want you to be prepared.

We've created a step by step Handbook on Emergency Preparedness to better prepare you and your family for an emergency. Our keiki version of the handbook is also available to start the conversation and planning process early for everyone in your home. The time to prepare is now. We encourage you to download our free handbooks and start preparing today.

(Additional languages are available: Vietnamese, Cantonese, Ilocano, and Korean)
Hard copies of the updated English version will be available starting July 1 on Oahu and early to mid-July on Hawaii Island and Maui County for these locations:
View Handbook
<!******* 3 TAB NAVIGATION START******> Back to the top
The 2022 Central Pacific hurricane season starts today and could bring as many as four tropical cyclones over the next six months. Hawaiian Electric is advising customers, both residential and commercial, to make sure they are prepared and have emergency plans in place.
Hawaiian Electric crews work year-round to harden the company's five island grids so they are better able to withstand the effects of powerful storms. A major focus of Hawaiian Electric's efforts to build resilience involves reinforcing poles, lines, and other equipment. The utility also spent $18.5 million in 2021 to clear trees and vegetation from around power lines and equipment, resulting in fewer and briefer outages during storms.
Forecasters are predicting two to four tropical cyclones for the Central Pacific in 2022, an estimate that includes tropical depressions, named storms and hurricanes. That compares to a normal season with a range of four or five tropical cyclones, according to the National Oceanic and Atmospheric Administration. Hurricane season runs through Nov. 30.
Hawaiian Electric's work to boost resilience includes equipment upgrades as well as longer-term planning efforts that will benefit customers well into the future. Here are some examples of the company's ongoing resilience work:
Oahu:

Improving system reliability in Windward Oahu with the replacement of a transmission tower with three new steel poles. Crews also transferred high-voltage transmission lines that cut across H-3 freeway to the new steel poles.

Clearing vegetation and upgrading poles, power lines and equipment in upper Palolo Valley. The company worked with residents to de-energize power lines so several large albizia trees could be removed along Lai Road.

Maui County:

Replacing more than 400 poles on Maui, Lanai and Molokai to maintain strength and safety standards based on inspections and testing.

Installing more than 60 grid-protection devices on Maui to help prevent outages and limit service interruptions to a smaller number of customers.

Installing weather stations at targeted West Maui facilities to actively assess drier and hotter weather patterns contributing to longer wildfire seasons produced by climate change.

Hawaii Island:

Developing a microgrid, supported by a battery energy storage system, to improve reliability and resilience in North Kohala. It would allow the company to serve the area while the existing radial sub-transmission line is rebuilt and when the line is affected by unplanned or planned events like storms or overnight maintenance and upgrade work.
To prepare for the hurricane season customers can refer to the company's Handbook for Emergency Preparedness. The handbook and a keiki-friendly booklet featuring Maka the Super Safety Hero are available at hawaiianelectric.com/prepare. Printed copies of the handbook are available for pickup at public libraries across our service territory and City Mill stores on Oahu. You may also call Hawaiian Electric at (808) 543-7511 for copies of the publications.
<!******* 4 TAB NAVIGATION START******> Back to the top
Residents should develop their own emergency plans and consider these tips:
Gather emergency supplies, such as a battery-powered radio, flashlights, lanterns and batteries. Be prepared to monitor communications over emergency broadcast radio stations.

Store enough water, non-perishable food, medicine and personal hygiene supplies for your family members and pets to last at least 14 days.

Turn off and unplug all unnecessary electric appliances and equipment during a storm or a power outage. When power comes back and is stable, plug in the equipment one at a time.

Shut off your electricity at the main breaker or switch if you need to evacuate.

Consider having a backup generator if you are dependent on an electrically powered life support system. Or, make plans to go to an alternate location where electricity will be available. Be prepared to take your medical equipment and medications with you.

If your business or residence is equipped with a backup generator, learn how to properly operate the device to avoid causing damage or injury.

Prepare a list of emergency contacts including phone numbers for insurance agents, vendors, physicians, or any other important individuals.

If you see a downed power line, assume it is energized and dangerous. Stay away from downed power lines -- at least 30 feet or more (at least two car lengths).
<!#43END>
---
About Hawaiian Electric Company (HECO)
Hawaiian Electric serves 95 percent of Hawai'i's 1.4 million residents on the islands of Oʻahu, Maui, Hawaiʻi, Lānaʻi and Molokaʻi. Established in 1891, Hawaiian Electric is committed to empowering its customers and communities by providing affordable, reliable, clean and sustainable energy.
COMMUNITY COMMITMENT
Hawaiian Electric Company is dedicated to our community in which we live, work and serve
. Rooted in Hawaii and one of the largest companies in the State, Hawaiian Electric takes the concept of malama pono -- to care for and serve -- to heart. The company and our employees have a long tradition of contributing with dollars, time and talent. Corporate citizenship is crucial to Hawaiian Electric's overall business plan because strong communities are essential to the success of the company, our employees and our customers.
Company and employee volunteerism is encouraged and employees volunteer for dozens of non-profits throughout the State.
Hawaiian Electric's corporate giving philosophy gives priority to projects that help families, promote education and protect the environment
.
The company also sponsors robotics programs and events that promote STEM (Science, Technology, Engineering & Mathematics) education and careers.
For nearly a decade, Hawaiian Electric volunteers provided manpower, bucket trucks and ladders to install Christmas lights at the Kaimuki Community Park and playground before the annual Kaimuki Christmas Parade in December, and in 2019 company volunteers repaired the "floating" Christmas tree at Puʻu O Kaimukī Mini Park with new multicolored, energy efficient LED light strands.
ref no:35450
Featured Product/Service
<!PDF LINK>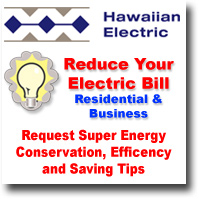 <!998Template_start>
<!998Template_end>
---
Please send questions about this website to